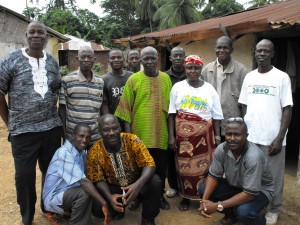 Teamwork Africa is grateful to the many Liberian pastors dedicated to serving the people of the remote villages in a region known as "the interior," where about two-thirds of Liberia's population live. They attend to impoverished villages that lack basic essentials, in order to share the hope of Jesus. They are risking their lives by giving up basic resources such as clean water and leaving behind the medical care found in the capital city of Monrovia.
We provide them financial assistance for both the needs and expenses to carry out the work but also to support their families (which includes biological and often adopted children) so they can fully dedicate themselves to this important work of meeting needs that migh otherwise go unmet.
Funds are shared with the pastoral team based on current needs. Our goal of $200/month will employ our pastors as pastors. Their responsibilities will be able to focus on the spiritual care of the community because the physical needs of their families will be met.
Jet PAC (Jesus Tool Package) & Motorcycles
Two big needs/prayers of our local pastors is to be able to purchase Jet PAC's and Motorcyles. A Jet PAC (produced by Airborne Ministries) is a compact, lightweight projection system for showing the Jesus Film to rural villages. It can be transported easily enough from village to village and includes a generator for power The Jesus Film is one of the most powerful ways for sharing Jesus with those who do not know him.
Motorcycles are a very helpful tool for pastors because of the distance and terrain they must cover on a regular basis to meet with their ministry partners, mentor young believers and care for people living in distant villages. Many villages are only connected by narrow foot paths and walking can take hours and be a very exhausting way of traveling on a regular basis. With motocycles, pastors and staff and spend their time with the people they are ministering to. They are a safe and effective way to travel in this area. Motorcycles not only help a pastor carry the Gospel to other villages, but also carry sick people to the clinic and supplies to the community.
Teamwork Africa currently has four motorcycles but would like to purchase several more so that more of our staff have access to them. Each motorcycle with helmet costs $1200.