Habakkuk's Wells is the name of our clean water program in Liberia. Clean water is the greatest need in every community, as it dramatically reduces disease and death. Entire villages in Liberia are without a single clean water well, and instead retrieve and drink water tainted with parasites and diseases. We dig the wells in the villages so that they can have – possible for the first time in their lives – clean, safe water to drink, cook with and clean with. In addition to meeting a village's critical physical need, a well provided through the local church offers a wide open door to share the source of our Living Water.
Each new well costs about $3,000 and many broken wells can be repaired for between $500 and $1000. A latrine can be installed with the well for about $1,200. Thanks to our a matching grant from The Last Well, each dollar donated doubles your impact! To make donations for clean water click MAKE A DIFERENCE
NEW! Click here to read an important update on the status of many new well projects in Liberia!
---
The Story Behind the Name: Habakkuk's Wells

The first project of any kind that Mark and Peggy organized in Liberia was to install a clean water well in the remote village of Kpeletayama. This village is where 2 year old Habakkuk, whom they hoped to adopt, lived and died in. On June 30, 2009, Habakkuk contracted cholera from contaminated water and died very quickly thereafter.
Determined not to let death have the last word, Mark and Peggy begin raising funds to put a well in Kpeletayama. Clean water that would end the needless death of children in this community. Habukkuk's Well was installed in March 2010.
Habakkuk, age 2, pictured on the right.
This well has changed the world in Kpeletayama.
In the second picture, you can see that they inscribed a dedication of the well to the village. During their trip to visit the completed well they discovered that the people of the village could not read the inscription — thereby giving birth to Teamwork Africa's education program that constructs a teaching hut, brings a teacher to the village, and pays for local children to get an education!
Other well stories can be read here.
---
Responses from villages to clean water projects Nov. 2013

written by Pastor Peter Flomo
Tuwainta (alternative spelling: Tuaika)

LOCATION: Kokoyah District, Bong County
POPULATION: 300

COMMUNITY DESCRIPTION: Found in Kokoyah District, Tuwainta is a village in which the only source of income is rice farming. The citizens of thisvillage largely worship their ancestors with less than 40% of the people interesting in attending church. Their main idol worship is the spirits of the dead. Almost all of the citizens are members of the Leopard society. This society destroys precious lives in the village. Bong County Agricultural Development Project dug two pumps in 1990, but these two well were completely damaged. Over the past decade, they drank from very muddy and dirty water up till TA/TLW contractor, Be Exact, was sent to rebuild these wells.
EVANGELISTIC EFFORTS: At the presentation of the Gospel, six people placed their faith in Jesus and almost all of the St. Paul Pentecostal members rededicated their lives. One of the new belivers is a midwife zoe. She explained how she can use witchcraft and the tools she has used. She openly denounced her past practices to follow the true God of Heaven. Her testimony is the talk of this village as she so key in many devilish activities.
Gowamue

LOCATION: Kokoyah District, Bong County
POPULATION: 450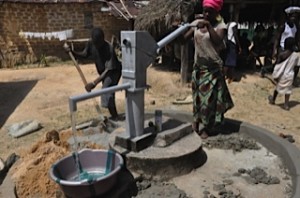 COMMUNITY DESCRIPTION: Gowamue is like a city set on a hill top. It is a high elevation village and the majority of its residents are elderly people. The reason behind this is very simple. They continue to do human sacrifice, like in Kpai. The elderly people hold an annual human sacrificing feast. As a result, the majority of the young people in this village have died through poisoning and curses, leaving behind only the old people. They are very resistance to the Gospel. In fact, they refused to accept our well diggers and our staff members at first. But God is good all of the time. Teamwork Africa pastors continued to bring the Gospel message and plan to bring the Jesus film to this area.
EVANGELISTIC EFFORTS: When the Gospel message was presented at the conclusion of the well project in this tiny village, a whole village responded positively. The majority confession is that Jesus should cleanse them from the blood bath attitudes they continue to find themselves in.
Baryata

LOCATION: Jorquelleh District, Bong County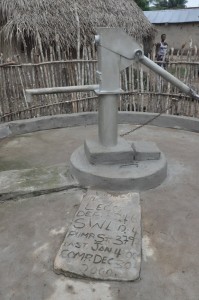 POPULATION: 1000
COMMUNITY DESCRIPTION: (from Pastor Peter Flomo) This is a fishing village as they are surrounded by rivers of water. The name of God is heavily blasphemed among the gentiles in this village because of the professing church attenders called Baptists and Methodists. Their cruel division has made the unbelievers in this village turned their backs completely to the Gospel Message. This village has had missionaries come to preach to them since the 1930s and yet they are still in the Underwater society (Meege). Baryata is one of the headquarters for hosting the Poro Society festival and initiation.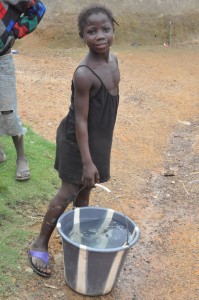 EVANGELISTIC EFFORTS: We did preach in this beautiful, rocky village but no one responded to the Gospel. In the presence of the crowd, the two pastors: The church elders, Namo Dollo (Baptist) and David Donny (Methodist), came together to confess their faults one to another in a friendly mood and total healing is taking place in this village. Well at BaryataHealing and reconciliation is greatly taking place in the two churches in this community.
Yeakai

LOCATION: Jorquelleh District, Bong County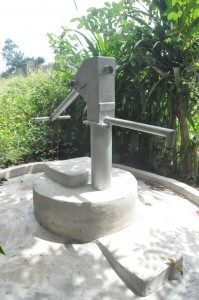 Yeakai pump
POPULATION: 1558
COMMUNITY DESCRIPTION: (from Pastor Peter Flomo) If all other villages were to be prayed for, let Yeakai be the top of the list as this place has welcomed satan with all of his practices. African "signs" or zoe performances come from this town. A young man who placed his faith in Jesus was murdered in this village and nothing, absolutely nothing, was done about it to punish the perpetrator. This village does not value human life. Satan has blinded the eyes of these people. In fact, this is one of our church plant target areas. We will be taking the Jet Pac for the Jesus Film Show to be shown in this village. Their minds are so harden, it will take the power of God to soften their hearts.
EVANGELISTIC EFFORTS: When our men were presenting the Gospel, the people of the village made mockery out of them. The team attempted to share the Good News, but to no avail. I pray for God to forgive them as they definitely do not know what they are doing. We are planning on vigorously taking on this village with the Jet Pac Tool in our hands. (The Jet PAC is an portable audio/visual system that can show the JESUS film in the Kpelle language.)
One young girl came to see what was happening with the new pump and how it came to be, she asked to speak to one of the pastors in private. She said she wanted to accept Christ but is afraid to publicly profess her faith because of the hatred of Christians in this village.
Kpoloyala

LOCATION: Suakoko District, Bong County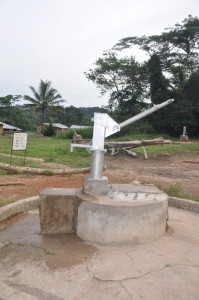 Kpoloyala pump
POPULATION: 1500
COMMUNITY DESCRIPTION: Kpoloyala is a village that is almost cut off from everywhere because of the bad road condition including badly damaged bridges. The citizens make their living through sugar cane farming. As a result, the consumption of alcoholic beverages is so high and immorality is so high in this village. Abuses of teenagers are just prevalent. Yet, their hearts are so open to the Gospel.
EVANGELISTIC EFFORTS: During our mobilization meeting with them for the replacement of the punp that was damaged over 10 year ago, we presented the Gospel to them. Over three hundred people accepted Christ as their Lord and Savior. Fellowship Church of Mafla Town will establish a preaching point in this area.