A 14-year civil war (which ended in 2003) left Liberia an educational wasteland. Most of the educated & professional people fled, the ones that stayed were targeted and killed, and the harsh conditions that remain have prevented those that left from returning.
One third of liberian third graders can't read a simple sentence. Only half of those finishing primary school are functionally literate. The unemployment rate is over 85%.
But this isn't just an educational problem – it's a spiritual one. How can the church disciple people if they're unable to read their Bibles and comprehend its meaning? How can Christians be community leaders if they have no education or training?
To address these needs, Teamwork Africa is building Great King Academy. The objectives of Great King Academy include providing quality academics with a Christian foundation, though the goal is not education for its own sake. We want to raise the next generation of Liberian leaders and influence them for Christ, so they can impact the culture of post-war Liberia.
Great King Academy will include preschool, primary and secondary levels. It will also include technical school courses so that young people can learn trades that will prepare them for employment and thus improve the economy in Liberia.
Liberia needs men and women that have been trained in the truths of Scripture from childhood and are prepared to take their knowledge into all areas of employment. Liberia is in desperate need of teachers, nurses, doctors, lawyers, and business leaders who know Jesus and are prepared to give an answer for the hope that is within them.
Future pastors and ministers need a solid academic foundation. Currently, many of our Teamwork Africa pastors lack formal education. We see how this limits their ministry: they desire more Bible training so they can teach with integrity and have greater impact, but how well could you study theology if you read at a 3rd grade level? We want the upcoming generation to have a solid education that can be built upon with Bible training should God call them to formal ministry.
In Liberia, the current perception of leadership is that leaders are served. In contrast, Teamwork Africa envisions a school where young people learn to follow Jesus' example: that to be great, they must serve.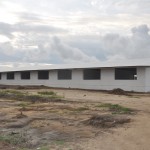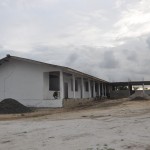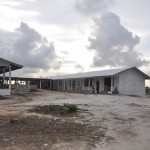 Great King Academy is located on a 10 acre property called New Life Community. The building is designed in an H-shape with the primary wing on one side, the secondary wing on the other and the offices and resource room in the middle. The primary wing construction is complete. All that is needed now is desks and chairs.
When the school is complete, it will be self-sustaining. Our goal is that the quality of education will attract families that do have the means to pay the tuition so that scholarships can be offered to students who don't. Profits from the school will be used to further other Teamwork Africa projects such as the medical clinic that is across the road from the school as well as developing schools in rural areas that are desperately lacking any education at all.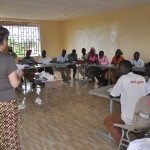 Great King Academy is part of the solution to the root causes of poverty in Liberia. It will train young men and women to be Christian influences in every area of leadership in their communities. Children and their parents will hear the truth of God's Word and, God-willing, become witnesses to sharing God's love throughout Liberia.
Very few children in rural villages have the opportunity to attend school. Even children living near a school can't attend, because they don't have money to pay for school fees.
Often, villagers work together to build a "classroom" for a the teacher to teach in, which can resemble a grass-roofed tent. We also need sponsors to enable a teacher to travel to rural areas to start a school. The support needed to provide a teacher is $200/month.