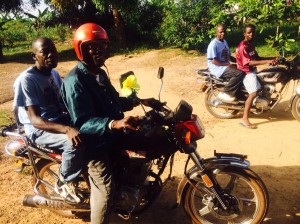 Many of the Teamwork Africa pastors met last week. They traveled to McGill Town for an evangelistic outreach. McGill takes hours to reach by foot. Thankfully, the motorcycles can travel most of the way to the river. From there, they cross over on a raft and then it's an hour walk to the village.
Prayer Requests

Pray that Ebola leaves Liberia. – Pastor James Kelemee and Pastor Moses Dolo
Pray that God should remember His promise to Abraham and forgive His people. – Pastor James Quinah
Pray that joy and happiness would return to Liberia. – Pastor William Kwenah
Pastoral Activies

Pastor Moses Dolo lead his congregation into: Operation Restore Hope. During this outreach, the church prepared hand washing buckets, chlorine and food to distribute in the Montserrado, Margibi, and Bong counties.
Pastor Moses Togba reports that there is a prayer meeting every Wednesday at Redeemer Baptist to pray for the nation.
Pastor Matthew Paye lead a "Rescue the Perishing" outreach to distribute Ebola prevention materials to the community. Pastor James Quinah led a similar outreach to his community and commented that calm is gradually returning to Liberia.
Pastor Robert Flomo and Charity Baptist committed to three days of prayer and fasting. They prayed specifically for God to intervene in the struggle against Ebola.
Rev. Amos organized an Ebola workshop held by two medical professionals to teach people about Ebola and how to prevent it. Rev. Richard Gbaquoi held a similar event in his area to encourage people to wash their hands and not touch people suspected to have the virus. Rev. Moses Whyan's congregation held an Ebola Awareness Campaign, especially among the young people.
Pastor William Kwenah's church raised special funds to buy more buckets and chlorine for those in need in their communities.