Deep in the jungle, the needs are great

NAME OF COMMUNITY: Khakie Moore Town
LOCATION: Fauma District, Bong County
POPULATION: 480 persons
COMMUNITY DESCRIPTION: Khakie Moore Town is surrounded by dense forest in this district. The residents lived on hunting and rice farming. Their well has been broken for the past six years and death rate in this thick forest is very high, according to the local health authority present in the area. Pastor Peter inquired of the local health authority for the cause of such a high fatality rate in the area, he quickly responded that the leading cause of death in the area was water related diseases. The lack of safe drinking water is a major problem in this community.
EVANGELISTIC EFFORTS: Even though they are found deep in the jungle forest, the people in this village love God with their words and deeds. One-hundred-twelve persons rededicated their lives to Christ.

Village "witch" comes to faith in Christ and confesses her sin


LOCATION: Salala, Bong County
POPULATION: 710 persons
COMMUNITY DESCRIPTION: Sugar cane production is this village's main source of income. They sell the sugar cane as well as the juice that is fermented for days and becomes alcoholic for drink. Most communities that survive on sugar cane production also suffer from the affects of alcoholism.
EVANGELISTIC EFFORTS: Old Lady Tuwain became the center of attention when she walked to our preaching team without fear and began to confess her sin of 'witchcraft". She admitted that she is responsible for the barreness of her three daughters. She said since she "buried the stomach of these girls" she had never had peace of mind in her but did not know who to go to for help of redemption. Meaning, that she belived that the curses she had put on these girls was preventing them from having children. She regretted the curse that she made, but she didn't know how to break the curse. Pastor Peter admonished her by saying that Jesus is the Way, the Truth and the Life. Immediately, she said she wanted to go to someone who will help her find the way to help these girls. Her conversion was followed by that of these girls, whose stomach has been tied by their mom in the witch world (cursed). The older girl came forward lamenting to God for their family redemption. (Begging God to redeem their family)
*Note by Peggy: Many areas in Liberia have a very deep belief in the spiritual world. They believe that some people have the ability to put curses on others that can interfere with health, livelihood and even life. Many unexplained illnesses or deaths are assumed to be caused by the spiritual world.

Water is welcome but the gospel is not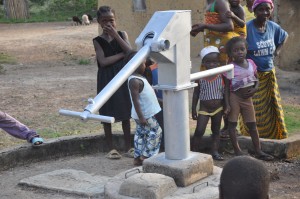 NAME OF COMMUNITY: Kolokota
LOCATION: Jorquelleh District #2
POPULATION: 823 persons
COMMUNITY DESCRIPTION: This village is founded on bedrock. Their 32-foot deep well has high yield of water supply. They are also involved with pineapple farming. Due to the spread of rock through out their region, rice can hardly grow in the area except pineapple.
EVANGELISTIC EFFORTS: Because they worship the rock in their village, they do not allow anyone to present the true Gospel in this village. The evangelism team was threatened for their lives if they forced their way into the village to preach the Gospel. Be Exact was told not to preach the Gospel but went ahead to rehabilitate the well. However, they then secretly sharted the Gospel with the Town Elder which prompted all the anger against them and they were forced out of the village.

Response of Biblical proportions

NAME OF COMMUNITY:
Gbakukuta
LOCATION:
Suakoko District
COMMUNITY DESCRIPTION:
This village is almost the utter most part of Suakoko District. Besides the far
distance, it is also hampered by lack of road to reach the village. Men and women carry everything into the village on their heads. In 2006, they experienced terrible loss of 14 persons in this tiny village. In 2010, cholera outbreak also killed 18 persons. When they heard of us, they could not wait but to give us a Macedonia call to consider them in our rehab works. Upon the completion of this project, there was total jubilation in the village because of the returning of fresh water.
EVANGELISTIC EFFORTS:
The dedication was ushered with the Gospel message and also the entire village came to Christ and vowed to make their village a Christian village.
NAME OF CHURCH:
New Faith Community Church
NAME OF PASTOR: Mentoring leadership
NUMBER OF REGULAR ATTENDERS: 216 converts

Over my dead body


NAME OF COMMUNITY: Kpahn Town /Yelequelleh District, Bong County
POPULATION: 1600 persons
COMMUNITY DESCRIPTION: Kpahn Town is a town of strong working men. They supply their own food and that of some of the surrounding neighbors. You can hardly find any imported items including rice in this village. However, the village pump experienced frequent breakdowns due to the high demand from the huge population.
BENEFICIARIES (PEOPLE SERVED INCLUDING SURROUNDING AREAS): 1600 persons had been without of safe drinking water for the past eleven months up to the point when our team entered and rehabilitated the pump. Yet, there are still two additional pumps needed to cope with this high demand for water as some people go without water when the pump goes low in the yield of water.
EVANGELISTIC EFFORTS: Old Man Julateh vowed that no Gospel should be preached in the town as long as he is the poro zoe (leader in the secret society, a very powerful position) when he heard that we were coming to do work and then preach the Gospel. He vowed that over his dead body, would God's work be preached in his community. The Be Exact Team took two days in a nearby town to do a simple repair on the village pump. (They were hesitant to go into this village upon hearing the declaration from this powerful man.) When the team finally entered the village, Old Man Julateh took sick. He died two days before the rehab work was completed. Then the Gospel of Jesus Christ was openly presented in the village and over 450 persons confessed their faith in Jesus Christ. Our prayer request is that our newly assigned church planter will have the courage to withstand the forces of darkness in this town and that this town will be redeemed.

The true God of the cotton tree


NAME OF COMMUNITY: Gwelinwalata/Suakoko District Bong County
POPULATION: 873 persons
COMMUNITY DESCRIPTION: This was the home of one native singer who was hired through out Bong County to play on special occasions for visits by presidents and other top personalities visiting the area. They believe that the voice of their village founder was from the cotton tree. To this date, they worship cotton tree. Their main type of farming is rice and the young boys and girls are hired to sing and play on well-planned occasions like their forefather.
BENEFICIARIES (PEOPLE SERVED INCLUDING SURROUNDING AREAS): 873 directly benefit from this well daily while over 1400 plus persons demand drinking from this well as they converge to participate as the residents sing and play. There is no church found in this area as people come in this area to seek demonic power to sing.
EVANGELISTIC EFFORTS: The Jesus Film was shown in this village and I preached from Psalm 160 where it talks about let every thing that has birth praise God instead of cotton tree. About 80 young people came to the saving faith of Jesus Christ among which was the lead singer to this cotton idol.

Stronghold of witchcraft broken as clean water opens the door to the Gospel's redemption


NAME OF COMMUNITY: Gbelayeney/Jorquelleh.District Bong County
POPULATION: 1000
COMMUNITY DESCRIPTION: Known for their witchcraft activities, no young man and woman will want to live in this village even though they are from there. It is known in the entire Jorquelleh as the "Village of Old Craft" which means that it is village of witchcraft. Hunger is on the very severe in the village because no young people want to live here to help the older people. They grow a little rice to eat, but it is hardly enough food to eat. This community is known to "sacrifice" their young people to the spirits of their dead relative to receive good fortune for the coming year. This practice leads to the unexplainable deaths of many young people. So, most young people are afraid to live near the village. Because there are no young people to do the work, the village is starving.
This badly damaged pump was first installed some twelve years ago, the young boys took the pump head away in protest of the wickedness of these older people. Since then, no non profit organization who knew the story had attempted entering this village. The late Pastor Jerome attempted planting church in the area was killed, along with his wife and two children. They all died of food poisoning by one 65 year old lady. She admitted to poisoning them when Pastor Jerome and his family all died on their farm. Wickedness had engulfed this village. One young man that was a senior in medical college, was killed in his sleep because he planned to burn the whole town down. He wanted to destroy the wickedness in this village.
BENEFICIARIES (PEOPLE SERVED INCLUDING SURROUNDING AREAS): 1000 older people with less than 10% young people.
EVANGELISTIC EFFORTS: The Gospel of Christ is powerful. One well repair opens door of such proportion that a whole village can be redeemed. When the Jesus film was shown to these people for the first time in the history of this village with almost all older people in attendance, they all burst out in tears and each just standing casting blame on who is responsible for the backwardness of their village. They all admitted it was Satan that had bought them and didn't know how to leave this signed treaty with the devil. About 250 of them accepted Christ and asked how their young ones can be encouraged to come back home to help them live till their death.
NAME OF CHURCH: I will call this place – New Life Community Church
NAME OF PASTOR: Joseph B. Harris, will be assigned from Eternal Love to help redeem this town

You have heard of God, but do you know Him?


NAME OF COMMUNITY: Tokpapolleh/Fuama District Kokoyah District, Bong County
POPULATION: 1,300
COMMUNITY DESCRIPTION: (from Pastor Peter Flomo) Even though this village is found in Bong County which has primarily people from the Kpelle tribe, this village is a Bassa dominant community. It is found on the border of Bong and Grand Bassa county border. The people are cassava growers. They also produce a large quantity of fufu for the market. The people of Tokopapolleh love going to church. I called it a "church village" as this one town has over 7 different churches: some with presiding archbishops and other people with high standing.
EVANGELISTIC EFFORTS: Everybody seems to know God in this village, yet they all lack the knowledge of the plan of salvation for their lives. One on one witnessing was done and 36 church elders accepted Christ despite their high seats in their various churches. We planned on mentoring these leaders who will in term train and change the view of their churches in the area.
*Peggy's Note: When Pastor Peter preaches, he often asks people if they have ever heard of America? Everyone raises their hands. Then he asks, "How many of you have ever been to America?" No one raises their hands. Next he asks, "How many of you have heard of God? But how many of you really know Him?" From there he leads people in receiving the Gospel message and prayer to know Jesus as their Lord and Savior.
NAME OF CHURCH: Upcoming Tokpapolleh Community Church
NAME OF PASTOR: 18 elders training started this April

Gospel is welcomed as "key to the city" given to pastoral team


LOCATION: Weayeata is a community within Suakoko District, Bong County.
POPULATION: 670
COMMUNITY DESCRIPTION: The Weayeata community lacks the Gospel and safe drinking water. The residents of this community pray to the very water they drink as their "gods". Deaths of children as well as adults increase every year during the rainy season as the result of flooded water. One hand pump is needed in this area to save lives.
EVANGELISTIC EFFORTS: Upon our arrival in this village, the village turned over their "Town Key" to us and asked that we help them redeem their village from the burden of sin. 37 persons accepted Christ during the Gospel presentation. What is needed most is team of trained people who will disciple these people.
Midwife trapped in witchcraft comes to faith


NAME OF COMMUNITY: Peletornola, Fuamah District, Bong County
POPULATION: 456 persons
COMMUNITY DESCRIPTION: Peletornola Well had been broken for the past 12 years. This well was installed by UNICEF but had since been broken without rehabilitation. This village is the central for cholera outbreak. Prior to our coming to work on this pump, 8 people died of cholera outbreak, of which were 3 teenagers and the rest were babies. These people still worship their ancestors' spirits.
BENEFICIARIES (PEOPLE SERVED INCLUDING SURROUNDING AREAS): 456 persons benefit from this well while over 1000 persons also come once each week for weekly market in this village.
EVANGELISTIC EFFORTS: Ma Yanka was the focus of our Gospel presentation when she walked out in front of everyone to confess the devilish deeds she had done to this village and its people. Ma Yanka went on to say that she ensured that children are sacrificed to their gods every Christmas season. She claimed to be responsible for the blindness of two of their children of potential (Two young people that were seen as very talented and capable of really excelling). Ma Yanka vowed to follow Christ when the TA Team presented the Gospel.
The people couldn't believe how fast the well was installed. From the time they first heard that the well would be repaired to the time it was completed was so quick they were totally amazed.
NAME OF CHURCH: no church, Ma Yanka pleaded with us to send someone to preach to them every Sunday.

Good overcomes evil


NAME OF COMMUNITY: Poloma, Fuamah District, Bong County
POPULATION: 815 persons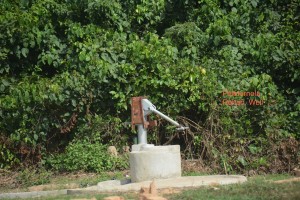 COMMUNITY DESCRIPTION: Poloma is beautiful island located in the corner of Fuamah District, Bong. This village is known for the supply of fresh water fish in the entire district. They grow rice and cassava on a large scale. It is the "bread basket" land. However, the Gospel is completely missing in this town.
EVANGELISTIC EFFORTS: Binda Suah – he is third generation zoe on this island. His wickness was inherited form two generations of his tribe. When Bind Suah is angry in this village, everybody goes in into hiding. He is feared for destroying innocent lives. Non profit workers are afraid to carry on any project in this town because of the presence of Binda Suah. When we arrived in this village, we didn't even know the story of Binda or his reputation. Upon our arrival, God directed the Be Exact Team to rest right in front of his house during the cool of the evening. When he came home from his farm, he question our team. They responded by saying we have come to work in the name of God to rehabilitate and dig new wells to places that need them. Binda offered to host our team and finally during the dedication of this well, he made confession of faith and assured his fellow citizens that no longer will he participate in doing evil but that he wants to join a local church to be follower of Christ. The entire citizenry leaped with joy, even the non believers, for the decision of this one-time wicked man. Following Binda's confession over 60 persons accepted Christ as Lord and Savior.
NAME OF CHURCH: No church presence
NAME OF PASTOR: No church